Garden sofa
Garden sofa guide - what to watch out for!
If you want to enjoy the same comfort in the garden, balcony or terrace as in the living room, you should consider buying a garden sofa.
Compared to a conventional sofa, a garden sofa has the following characteristics:
Above all else, a garden sofa is weatherproof. That means: it can stay outside on the balcony, terrace or in the garden even in cold, hot, sunny weather, rain, wind and weather
A garden sofa shouldn't get dirty easily. Stains should be easy to remove
If you have a smaller balcony, the balcony sofa should not be too big. Tip: measure the balcony or terrace before buying the balcony sofa and compare it with the dimensions of the garden furniture
You should pay attention to what material the garden sofa is made of, whether rattan, polyrattan, teak, metal, aluminum or fabric - it makes a big difference in terms of durability and care
If you mainly eat your meals on the balcony, terrace or in the garden, you should pay attention to the height of the garden sofa. Or you can opt for higher garden chairs and a table that is not too low


In addition, the outdoor sofa should be as comfortable as possible so that you can sit and lie comfortably on it
Check the quality of cheap garden sofas critically. Sometimes a high quality garden sofa is cheaper than buying 3 cheap sofas ...


Is a protective cover or cover available for weather protection of the outdoor sofa
Weatherproof garden sofa
The weatherproof balcony sofa LOOPY can be left on the balcony, terrace or in the garden in snow, rain and blazing sun.
What are the advantages and disadvantages of weatherproof garden sofas?
Lounge garden furniture, lounge groups, balcony sofas and garden sofas are made of the different materials polyrattan or plastic, aluminum, stainless steel, wood.
Garden furniture made of polyrattan, aluminum, stainless steel and wood usually consists of a frame and upholstered seat covers.
The cushions are often not weatherproof and are usually stowed in a dry room after use. This is cumbersome and requires storage space. Usually the cushions are not as well padded as high-quality lounge furniture in the living room.
The polyrattan frame can usually be left outside, as the wickerwork is very resistant. Outdoor garden furniture made of aluminum or stainless steel can rust under certain circumstances. Longe garden furniture made of wood can possibly weather and warp.
A garden sofa made of weatherproof fabric, on the other hand, is particularly easy to care for
The outdoor sofas and lounge garden furniture sets by april furniture are completely covered with a weatherproof and water-resistant Sunbrellaâ fabric from boat building.
The high-quality weatherproof and UV-resistant fabric is so insensitive that the lounge garden furniture can be left in the garden, on the balcony or terrace all year round regardless of wind and weather. Additional advantage: This fabric garden furniture is insensitive to dirt, easy to clean and very durable.
The use of the cotton-like fabric enabled very high-quality upholstery on the one hand, as in indoor lounge furniture. On the other hand, the complete fabric cover of the outdoor armchairs, stools and sofa corners enables a classic, minimalist design of the outdoor lounge furniture - which is rarely found in outdoor furniture made of plastic, wood or metal.
Die exklusiven Lounge Gartenmöbeln von april furniture vereinen ausgezeichneten Sitzkomfort mit exklusivem Design und hoher Praktikabilität. Neben den Lounge Gartenmöbel Sets bietet april furniture weitere Artikel wie eine Sonnenliege und Gartenliege an, die ebenfalls gut gepolstert und wetterunempfindlich sind.
2 examples of lounge garden sofas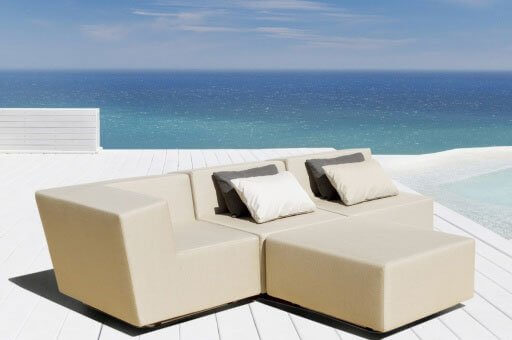 Garden sofa lounge with armchair, corner sofa and ottoman on a terrace
High quality lounge balcony sofa - consisting of 2 armchairs and a poster stool - on a balcony. 
Why buying a garden sofa as a lounge set is a good idea
Usually a lounge sofa is not bought for the garden, but for the balcony or terrace. If you buy an outdoor sofa in the form of a fully assembled 2, 3 or 4-seater lounge set, the entire balcony may be blocked, so that there is hardly any space and it is difficult to walk on. This can be a problem, especially with smaller balconies or roof terraces. For example, fixed poly rattan landscapes are often offered at a low price, but they cannot be converted.
Another problem: If you are celebrating a cocktail party or a birthday, for example, the outdoor lounge sets cannot be rearranged or redistributed.
With a lounge set consisting of individual modules, you remain flexible
At april furniture you get outdoor upholstered furniture sets, which consist of the 3 modules outdoor armchair, sofa corner and ottoman. You can set up these 3 upholstered furniture modules individually or combine them into lounge sofas and garden furniture sets of any size. So you can set up the lounge balcony furniture exactly as the space on the balcony or roof terrace allows. And if you need it differently, you can simply rearrange everything.
Frequently asked questions about garden sofas
What are the advantages of the different materials in a garden couch made of rattan, polyrattan, wood, metal and weatherproof textile covering?
Most garden sofas made of rattan, poly rattan, wood, metal and aluminum consist of 2 main components: the body made of rattan, poly rattan, wood, metal, aluminum and the cushions. The frame material remains outside in all weather conditions, at least in summer. Polyrattan furniture is made of plastic, which is usually very weather-resistant. Wooden furniture can fade, fade, or warp.
In the case of metal furniture, there is a chance that rust could build up. In addition to the body, this garden furniture requires cushions, which usually have to be brought in in bad weather or overnight. This can be annoying and requires storage space. Of course, seat cushions also offer less seating comfort than professionally upholstered lounge garden furniture with a fabric cover.
A garden couch or garden seating group with a textile covering made of weather-resistant acrylic fabric (Sunbrella) from yachting is liquid-repellent and completely protected against snow, rain, dirt and UV rays. That is why a garden seating group from april furniture can be left on the terrace or balcony and in the garden in any weather.
Can garden sofas also be left outside in winter?
The outdoor lounge sofas from april furniture can easily be hibernated outdoors. If you want to protect your outdoor sofa collection from dirt in your outdoor winter quarter, you can cover the lounge garden furniture with a custom-fit cover.
What size should a garden sofa be?
The size of outdoor furniture depends on the space available on the balcony, terrace or in the garden. Modular seating groups are particularly practical. If a garden sofa consists of the basic modules outdoor armchair, stool and corner sofa, then these basic modules can be set up individually or flexibly arranged into seating groups of any composition and size. It is best to measure the size of the garden, balcony or terrace and the size of the desired garden furniture before buying a garden seating group.
At april furniture you will find the corresponding size information for all lounge furniture. You should also plan how many seats you will need. The individual modules from april furniture allow you to put together balcony sofas of any size. Because the individual modules nestle against each other to fit exactly, connecting pieces are not necessary. Whether you need a balcony sofa as a two-seater, three-seater, four-seater or five-seater is up to you.
What care does a balcony sofa need?
The fabric of our lounge garden furniture is robust, weather-resistant, water-repellent, insensitive to dirt and UV-resistant. Care instructions: This is why our outdoor sofas with weather-resistant textile cover hardly need any care. Stains and dirt can usually be removed very easily with a little warm soapy water.Where can you buy a garden sofa?
Exclusive design garden furniture in many colors and a classic garden furniture design
Our weatherproof designer garden furniture sets are not only available in the standard color "brown", as is common with poly rattan, but also in beige, gray and 10 other colors.
Another advantage: Because we manufacture ourselves in Germany, shipping is fast and delivery within Germany is free of charge!
Click here for our LOOPY balcony sofa
Here you will find our lounge garden furniture sets
Lounge garden furniture sets