Garden lounge
An exclusive garden lounge of incomparable charm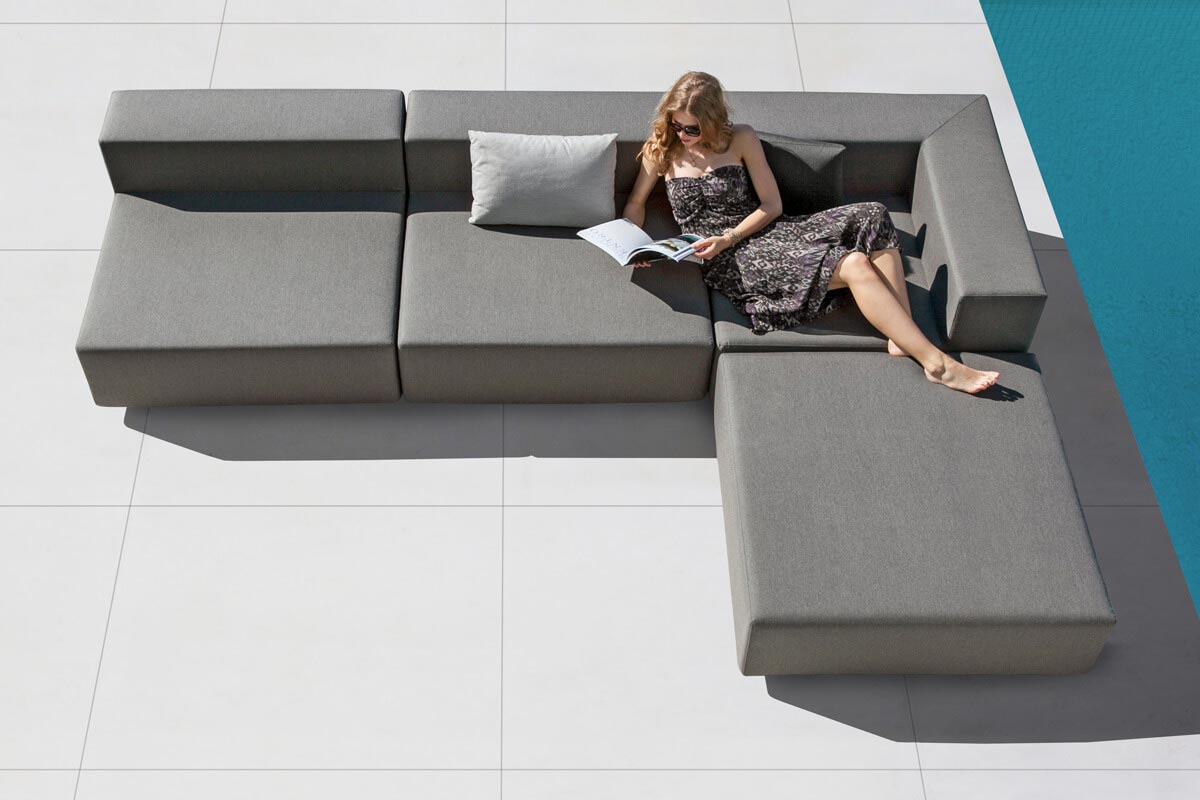 Design garden lounge as a lounge set sofa
If you want to enjoy the same luxury on the balcony, terrace or in the garden as in your own living room, you should opt for an exclusive garden lounge set from april furniture. Because our exclusive garden lounges combine many advantages:
Excellent design
Excellent upholstery
Insensitive and durable
Exemplary functionality
Thanks to the modular structure, you can put together any number of garden lounge sets from the individual elements. In contrast to many garden furniture made of aluminum, metal or polyrattan, the individual elements of the armchair, middle section and corner sofa are not firmly connected to one another. And in contrast to the usual garden furniture, which is often only available in gray, brown or black, you can order our garden lounges in 12 great colors.
Garden lounge with graceful charm
The three individual modules of the LOOP series can be combined to form a graceful garden lounge that hardly sets any limits to your own creativity. Armchairs, corners and stools in the LOOP set meet even the highest demands of proud garden owners. Whether a 2-seater or 3-seater lounge set sofa, whether with one or two lounge corners or with one or more stools: a garden lounge designed with exclusive outdoor designer furniture from april furniture can be seamlessly integrated into the look of the house and garden.
The stylish elegance of the ensembles created by the internationally known designer Florian Asche is also reflected in the outdoor furniture of the JAM series. Their slim and almost filigree design is particularly suitable for designing a garden lounge where space is limited.
The modules from the LOOPY series are also suitable for smaller lounges. Freely combinable, the corner sofa, armchair and stool convey the graceful charm that guests and visitors can hardly escape.
Difference between our lounge sets and poly rattan lounges
A poly rattan lounge usually consists of a poly rattan body and seat pads. The polyrattan body of a lounge seating group or sofa group usually consists of a fixed 2, 3 or 4-seater corner sofa and possibly a table and a single armchair.
In contrast, the lounge sets from april furniture consist of the 3 individual modules lounge chair, lounge stool and sofa corner, which can be combined as desired. Additional difference to polyrattan lounge furniture: The lounge seating groups from april furniture are upholstered to a high quality, so that no seat pads are required that have to be stowed away in the rain.
Exquisite quality: the garden lounge for the discerning
The quality seal "Made in Germany" is just as natural for april furniture as the exclusive use of high-quality materials. With every garden furniture lounge you have the free choice between 12 tasteful fabrics that are also used in yachting and are absolutely weather-resistant. In plain language: neither snow nor rain, frost or heat can harm these substances. They are pleasantly soft and also make any seat pad absolutely superfluous.
The unique symbiosis of unrestricted combination options and excellent quality make the exclusive designer furniture from april furniture a sophisticated outdoor interior for a garden lounge, which is pleasantly different from conventional furnishings.
What should you look out for when buying products for the garden lounge?
The outdoor lounge furniture should be weatherproof so that it can be left outside on the balcony, terrace or in the garden in any weather. This saves you having to constantly move back and forth seat cushions with every little downpour. In addition, you can enjoy robust, UV-resistant and stain-resistant balcony furniture for a long time.
Should you buy a garden lounge set or everything individually?
Outdoor lounge sets should, if possible, consist of individual elements that can be placed or put together individually. A lounge set consisting of the individual modules armchair element, middle section stool element and sofa corner element is best. These 3 basic modules can be placed around a table at april furniture, for example, or combined to form a 2-part, 3-part, 4-part, 5-part or even 6-part outdoor sofa. You can create different lounge landscapes. And you can adapt the garden lounge sets to the space available on the terrace or in the garden. The lounge garden furniture can also be rearranged for a game evening or a party.
Can the cushions and cushions of a garden lounge stay outside when it rains?
In contrast to outdoor furniture made of plastic mesh, lounge garden furniture and outdoor sofas from april furniture do not require any seat pads. All outdoor upholstered furniture from april furniture is completely covered with a weatherproof Sunbrella fabric from yachting and can be left outside in any weather. Whether blazing sun, a violent thunderstorm or snow, the outdoor lounge furniture is well protected. The outdoor lounge cushions by april furniture made of a weather and water-resistant fabric are also weather-resistant and UV-resistant.
What materials are recommended for garden lounges?
Lounge garden furniture made of polyrattan or plastic mesh, metal, aluminum or wood have the disadvantage that a seat pad is also required. Such seat cushions are usually not as comfortable as a professionally upholstered outdoor lounge furniture made of fabric. In addition, the seat cushions must be brought in at night and in bad weather if they are not weatherproof. Outdoor upholstered furniture, which is covered with a Sunbrella fabric from yachting, can be left on the balcony, terrace or in the garden in any weather. Because the weather-resistant fabric is water-repellent, insensitive to dirt and UV-resistant. A garden lounge set made of a weatherproof fabric is practical, comfortable and insensitive.
Here you will find an overview of
our garden lounge furniture
Garten Lounge Furniture Set